Finance
Build trust via
secured omnichannel

communications

Connect to customers with official and verified channels to build long-lasting relationships. Protect conversations and customer data on our secured server.
Protect privacy and data with top-notch security infrastructure
We encrypt and mask personal information to protect sensitive customer data. Our servers are ISO27001 and GDPR-certified, and have passed multiple security tests to ensure your account and data are well-protected.
Easy broadcast from an official number
Blast broadcast messages for system updates and latest promotions on WhatsApp with a 90% open rate. Centralise all communication channels in one place and reach your customers at scale so you don't have to manage them separately.
Automate conversations and answer enquiries 24/7
Provide premium service and support without any delay. Build chatbots and set quick replies to answer enquiries to incoming messages during non-business hours.
Collaboration made easy with
SleekFlow
Answer inquiries as a team. Customers no longer need to have different contact numbers. With the same contact, they can reach out to anyone on the team and get instant help. This ensures consistency and builds credibility.
Boost message open rate by 40%
One of our key findings is that people prefer to read messages on WhatsApp. After using SleekFlow, we observe a dramatic increase of 40% in open rate in our communications.
Read Case Study
Caroline York
Head of Corporate Communication, AQUMON
Features
More unique features for finance services
Verified green badge on WhatsApp
Build a trustworthy brand by verifying your WhatsApp Business account. Boost message open rate and reduce instances of getting blocked by customers.
Internal notes
Leave notes for teammates to follow up on customer inquiries. Provide all-around support for customers without missing any messages.
Co-own conversation
Access the chat among the team to reduce response time, while granting different levels of access. All accounts with access granted can view conversations and answer inquiries anytime.
Label and segment customer into groups
With smart labeling on SleekFlow, staff can follow up with customers more efficiently. Utilize segments to create tailored campaigns based on customer groups for higher campaign ROI.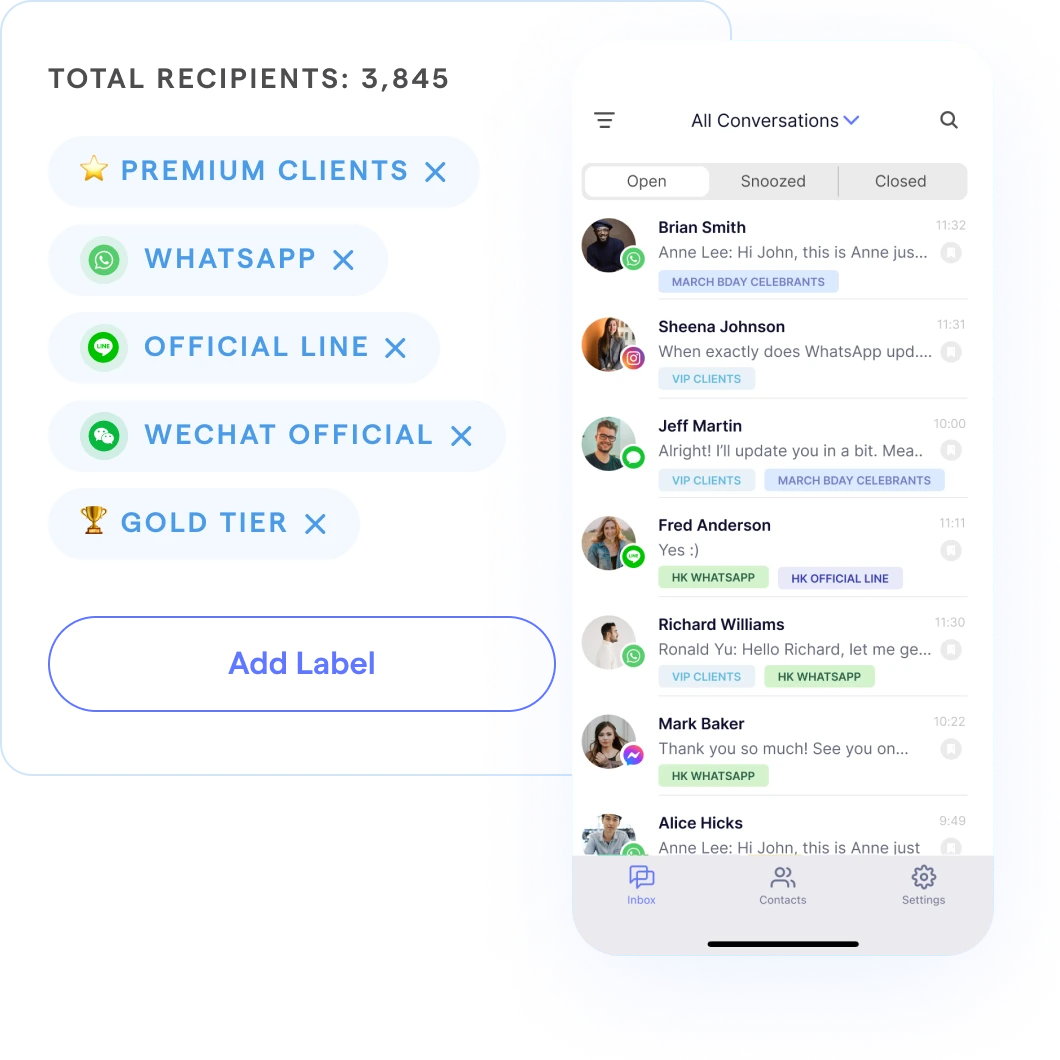 You're in good hands
Build meaningful customer relationships on secured, encrypted channels
Top-notch security and privacy
Official WhatsApp Business API Account
Localized experts