How AutoMate, a car service platform, uses SleekFlow to achieve 5 times higher conversion rates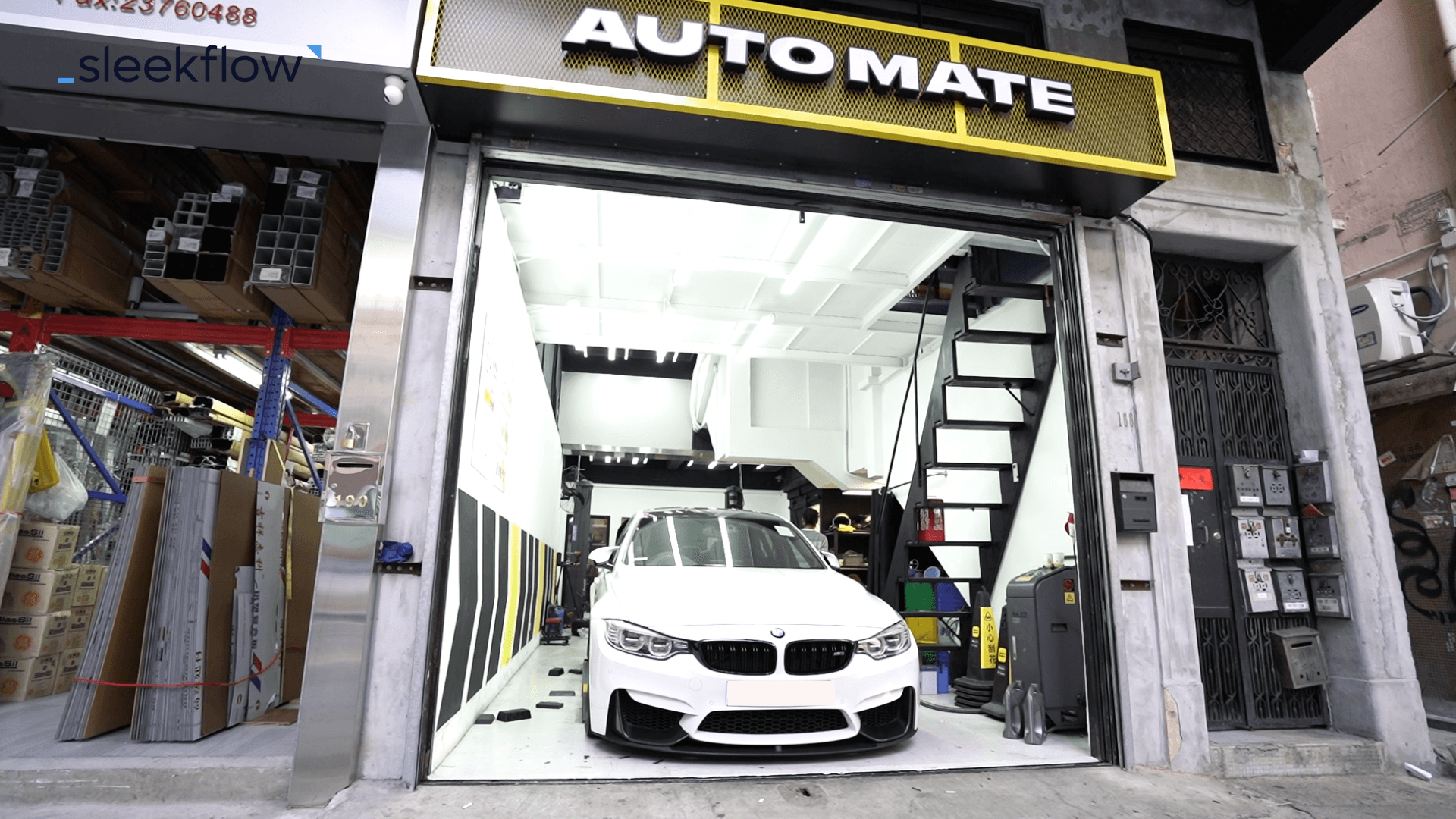 AutoMate is a one-stop car service platform trusted by over 100,000 customers in Hong Kong. The app connects car owners with auto service centers and insurance providers. Customers can compare prices for car repair, maintenance, and beauty services, then schedule an appointment and pay immediately in the app. They can also buy auto spares, parts and accessories from a range of providers at competitive prices. Further enhancing the customer experience, the app makes it easy to evaluate and access car insurance products. A customer can get a cover note in as little as 10 minutes.
In addition to driving values through price and supply information transparency, the AutoMate team uses data to fuel a highly personalized digital buying journey, putting the customer experience in the driver's seat. Watch this video (only available in Chinese) to see how SleekFlow plays a part in it.
Challenges in mobile app development
First touchpoint is not interactive
AutoMate's core business revolves around a native mobile app. Despite its great functionality, a mobile app cannot succeed on its own when it comes to communicating the benefits to the users. 
Jason, Head of Product at AutoMate, explained: "Push notifications are not interactive. Too many in-app notifications can be overwhelming. Given the product complexities of auto services, even email is ineffective. A generalized email with a discount can't get careful car owners to buy. People ask a lot of questions back and forth to ensure that their car is in good hands. Hence, we wanted to create a great first touchpoint experience to build trust in potential customers before they even used the app."
Limited functionality in a purely messaging platform
Auto service shoppers, according to Jason, are quality-conscious. "People prefer authorized centers, despite the higher cost, because they want to avoid the hassle of explaining their problems to a new shop. To set our brand apart from competition, we are committed to providing excellent pre-sales support through popular channels like WhatsApp."
Previously, the support team used WhatsApp Business with multiple users via Gesprek. However, the improvement in efficiency was limited because they couldn't use keywords or event triggers to automate the workflow. "On any given day, we receive 200-300 inquiries. It is equally important to prioritize high-intent customers while also keeping other users engaged. For a while, we had a lot of unplanned expenses to connect the inbox to other mobile app marketing tools to automate and route messages. That's when we realized we needed more than just a shared team inbox but a customer service automation software that can be integrated to our app's backend system."
WhatsApp Business automation software for the auto service industry
On SleekFlow, AutoMate optimizes its sales process with WhatsApp Business automation integrated with its mobile app system.
Drive website traffic to mobile app
Considering that native apps receive very little visibility from search engines, AutoMate collects leads from its website and social media, then directs traffic to apps using SleekFlow Public API. For instance, website visitors can submit a quote request form to compare motor insurance prices. When the quote is prepared, SleekFlow receives an incoming webhook to automatically send a message to the customer's WhatsApp account, notifying them to download the quote in the AutoMate app, therefore driving app installments.
Qualify leads through a chatbot
AutoMate also optimizes the first touchpoint experience, so that when a user downloads the AutoMate app, they will receive an automatic WhatsApp greeting message asking if they are looking for auto services or just browsing. Customer responses will trigger a WhatsApp chatbot to collect initial information and categorize queries as Insurance, Repair or Maintenance. SleekFlow will then automatically assign these conversations to the responsible customer service representative. The quick lead qualification process on WhatsApp enables the team to capture high intent leads while maintaining a personable brand impression for other users.
Send hyper personalized broadcast campaigns
When it's time to show what AutoMate has to offer, they make sure it's relevant to the users. 
Jason explained the process: "When a user creates an account in AutoMate, we ask them about their car's brand, model, year of manufacture, and current market value. Then, on SleekFlow, we combine this first-party data with customer responses on WhatsApp to get a complete view of each of them. From there, we can create hyper-targeted WhatsApp campaigns. For example, all private cars manufactured more than six years ago must undergo annual inspections. We send a broadcast message to remind this group of car owners, along with an auto insurance quote tailored to their car model. Such highly personalized messages convert prospects very well. People really appreciate a thoughtful marketing campaign."
SleekFlow makes it easy to do hyper-targeted campaigns. Such personalized messages convert prospects very well because people feel that they are receiving a service specifically tailored for them, as opposed to a generic marketing message.
Jason Law
Head of Product, AutoMate
Nurture prospects through automated segment 
AutoMate also uses the Campaign tool and keyword-driven WhatsApp Business automation rules in their lead nurturing process. The app recently launched a beta feature called Safe Driver. It is a driver scorecard that evaluates the user's driving skills based on specific metrics, such as speeding and acceleration. Drivers with a score of 97 or higher are eligible for a 30% auto insurance discount. 
To help users find out about new features when they need them and are ready to act, AutoMate sends interactive list messages to certain users asking them when their car insurance is set to expire. When customers respond on WhatsApp, SleekFlow automatically segments the contacts into different groups based on the expiration month. Then, users whose car insurance are up for renewal in the corresponding month will get a broadcast message about the Safe Driver. "This mobile app marketing tools save us a lot of time, and people are more likely to take the assessment if they can earn rewards that can be used right away," Jason shared.
SleekFlow's WhatsApp Business automation helps consumers discover a new product when they need it and are ready to take action.
Jason Law
Head of Product, AutoMate
Close sales on WhatsApp 
When users want to make a purchase, they can select the services in the app, which will then automatically generate a WhatsApp pre-filled message template with the inquiry details. When the app prompts customers to continue on WhatsApp, SleekFlow will route the conversation to a customer service representative. From there, the team can create quotations and close deals on WhatsApp swiftly.
Conversion rate increased by 5 times
On SleekFlow, AutoMate achieved a 5 times higher conversion rate compared to email and other mobile app marketing tools. Jason attributed the success to effective communication between the product and its users: "I strongly recommend integrating WhatsApp Business API into product strategy. On SleekFlow, we can fill gaps in our customers' journeys and keep them satisfied by using WhatsApp Business automation."
About AutoMate
AutoMate was founded in 2017 as an online marketplace for auto services and has since evolved into a direct-to-consumer brand, with its first offline store opening in 2022. To date, the app has over 100,000 registered users and 15,000 monthly active users. Some of its popular features include: gas price tracker, car expense management tool, free motor insurance quote and 24/7 roadside service.